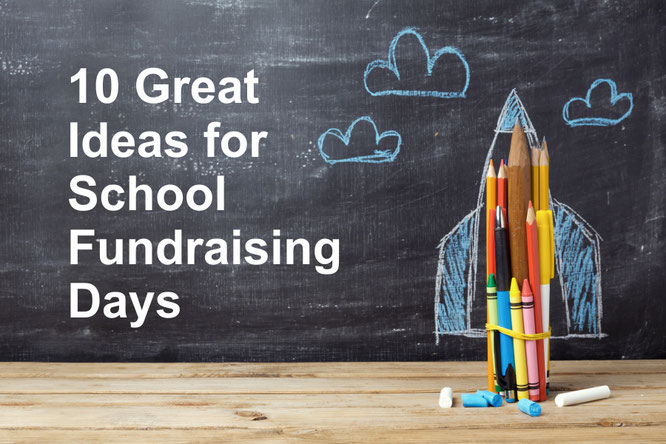 We send lots of Jumbo Cheques to schools, academies, colleges and universities so we thought we would share some of the best ideas that we hear about to help other budding school fundraisers.  So, here are 10 great ideas for school fundraising days.
Freezer pop Fridays
Great in the summer when you have a hot sunny playtime.  If you have a friendly school cook ask if they will put a couple of boxes in the freezer for you.  Buy them for around 10p each and sell them for 50p at playtime.
Bring and buy book sale
Book sales are a great way for parents to clear out old books that children have outgrown, buy pre-loved books to refresh there home collections and raise lots of money for your school too.
Hold an art exhibition
speak to your local artist and ask if they would like to hold a special exhibition at your schools.  they display their pictures and parents are invited to buy a piece of art with a commission from every sale going to your school.
Have a craft sale
We can every school has loads of crafty parents, whether it is knitting, art, jewellery making, sewing, candle carving or some other handy-craft.  Invite parents to sell their crafting creations at a school sale with a stall rent or commission from sales going to your school.
Trivia night
Anyone that has attended a pub quiz will know how much fun they are.  Hold a quiz night in your school and you can raise funds from team entries, food and drink sales.
Amateur film nights
If you have a local amateur film club why not team up with them to put on a screening, Ticket sales along with food and drinks can raise funds for both your school and the film club.
Doughnut day
National doughnut day happens in June each year and is a great opportunity to sell doughnuts to students and staff and make a tidy little profit for school funds.  This works with lots of 'national days', check out our article: The Best National Days for Fundraising Events
Charity car wash
Turn your school car park into a charity car wash for the day and get students busy washing teachers and parents cars.
Hold a charity sporting event
Team up with other local schools to put on a charity sporting event and sell tickets to family, friends and relatives to come and watch.
£20 entrepreneur challenge
Parents are invited to take part in a fundraising challenge.  They start with £20 (they provide this to take part) and have to use that money to make as much as possible by any legal and moral means over a set period of time (maybe three weeks).  You will be amazed how competitive this challenge gets and the unique ways that people will come up with the increase their £20 to a larger amount.  All the money raised goes to your school and the winning entrepreneur gets a trophy and a certificate.
This last idea is a great one as every team gets the opportunity to present their money to the school using your new jumbo cheque, so no matter how much they raise they get a nice picture to take home with them.