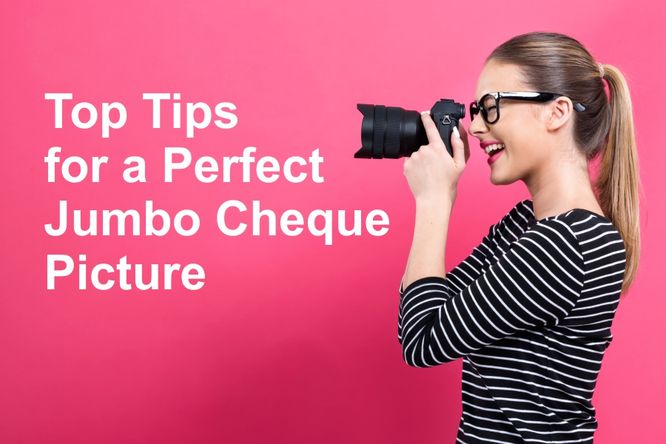 We provide large presentation cheques to hundreds of groups, charities and businesses up and down the country and our jumbo cheques often feature in photos.  A big cheque is a real stand out feature in a publicity photo and can bring a great sense of occasion.  So here are our top tips to help you get the best from your picture.
Plan your shot ahead of time
Take some time to prepare how you will set up your photo and where it will be taken.  Have you got enough space for everyone, what will the lighting be like and how will you arrange people to make sure that everyone is in the shot.
Use a tripod
No matter how still you think you are holding the camera you will always get a much better shot with a tripod.  The last thing you want is to find out that you publicity shot is blurred and cannot be used.
Position your cheque
Make sure that your jumbo cheque is front and centre in the picture and get the people holding it to angle it down slightly.  You won't notice the angle in the picture but it will help to prevent glare and reflections, especially on dry-wipe cheques with a glossy finish.
Tell people to smile
People don't always smile for a picture and a frowning face can ruin a great shot.  So don't be shy and tell them to smile, you only get one opportunity for the perfect picture.
Make sure that people are looking at you
If you have more than one camera taking pictures you can get wandering eyes as people .  Make sure that when you take your photo everyone is looking at your camera.
Take more than one picture
You don't need hundreds but make sure that you take two or three so that you have a back up when someone blinks at the wrong moment.
Use a photo editing program
It's not cheating...  Let's face it, we are not all professional photographers, so take full advantage of the incredible photo editing software available on your phone or online to adjust the colour, lighting and crop your picture to make it perfect.
Silly pictures
If people want a silly picture (pulling faces of cheering, etc.) let them have one, but tell them that they have to do your sensible picture first.